6 questions to Saumolia Puapuaga, the new artist in residence of the Hawai'i State Art Museum
---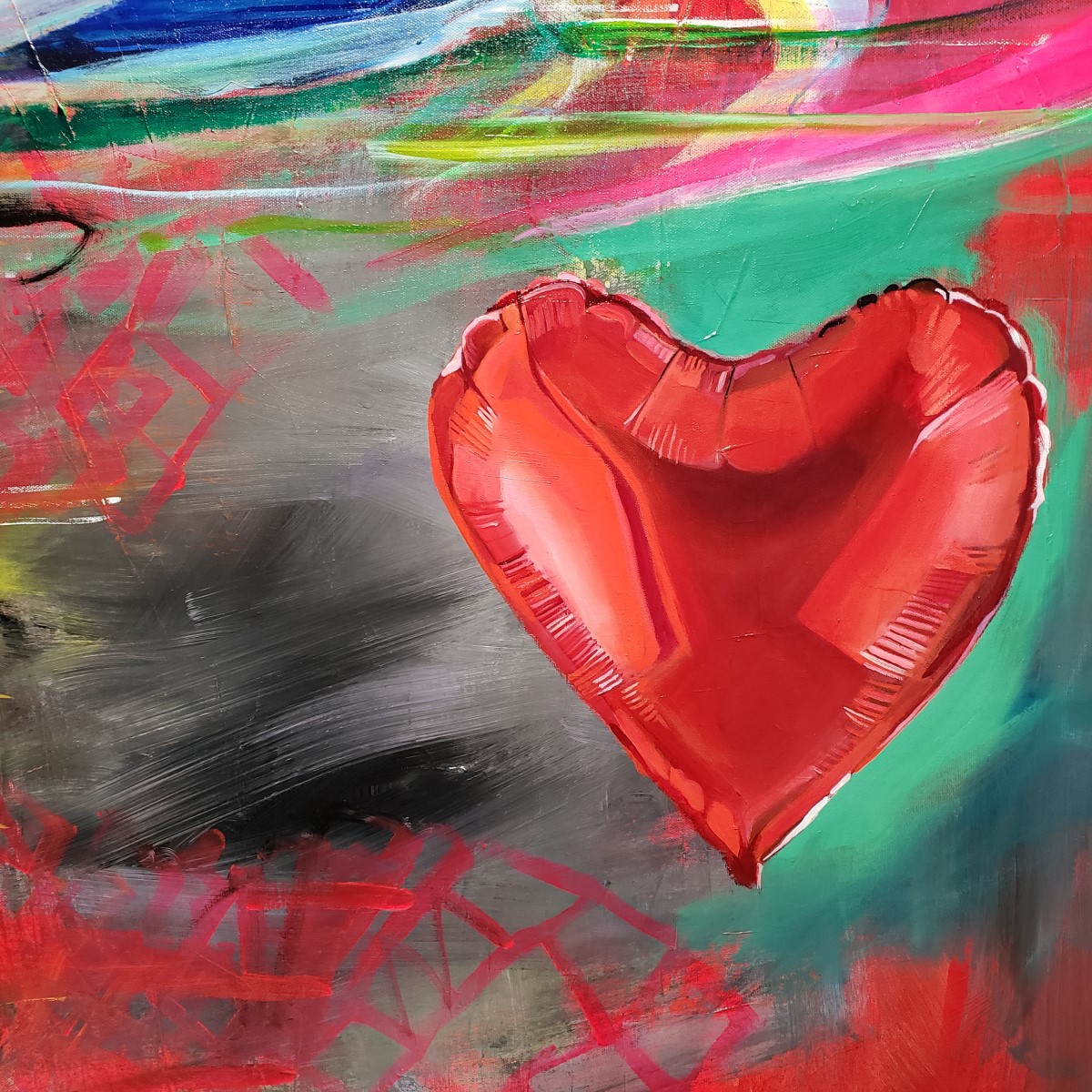 WWith her warm smile, sparkling eyes and friendly personality, Saumolia Puapuaga breathes new life into the former Hawai'i State Art Museum gift shop space as HiSAM's first artist in residence for Passion On Display. The organizers of the program invite the public to come and discuss with the artists and see the works in progress. Puapuaga, a painter, graduated with a Bachelor of Fine Arts from UH Mānoa in 2012. He says he looks forward to welcoming people to his series of paintings called "Dear Saumolia," which are like personal letters to the past and present of the artist. With oil paints pushing the chroma saturation to 11, Puapuaga sees the world filled with vivid colors and endless possibilities. "This collection invites visitors into a space of my heart and soul to visually capture the heartaches, triumphs and feelings of accepting me as a queer artist," he says. "For so long, I hid my authentic self because of fear. I am grateful for this opportunity to be in sight and shamelessly of me. We sat down with the artist to talk about what inspires him and what he will be doing during his residency.
HONOLULU Magazine: What inspired you to do the "Dear Saumolia" series?
Saumolia Puapuaga: "Dear Saumolia" is my desire and my journey towards self-acceptance and recognition as an Aboriginal queer artist. This series is rooted deep within me and has helped celebrate my real, authentic self. This collection started with me holding a mirror in front of me and I wasn't sure what I was seeing; It was only by reflecting on my past that I was able to create this series.
HM: How does your Samoan heritage influence your artistic work?
SP: My Samoan heritage is present in most of my work. I grew up appreciating the beautiful designs and vivid colors of my heritage and found it to be an important cultural element that references who I am and allows me to reconnect with my roots and ancestors. Samoans in modern America.
HM: Unfortunately, a lot of people stop making art after leaving school. What are the things that you have done to continue making art and have a sustainable art practice?
SP: Paint constantly! What has helped me is the support around me, family / friends at my workplace; these people and these spaces allowed me to imagine what the life of an artist could be like. I have always had a desire to exhibit my work in public spaces, which has also enabled me to remain active with local artistic communities.
---
SEE ALSO: Hawaii State Art Museum's Latest Exhibit Takes On 'Containment' Theme
---
HM: In your artist in residence schedule, it says that you will be in the space six hours a day, six days a week. What are you going to do exactly?
SP: I'll paint the city pink! Being able to do what I love in a museum is a very rewarding experience and I look forward to continuing to work on current commissions and future projects, as well as inviting other artists to come and talk about history in such an inspiring place.
HM: What does Passion On Display mean to you?
SP: POD is a physical space that allows me to share my art with the community in new, exciting and vulnerable ways.
HM: Is there anything else you would like to share?
SP: I hope my trip here can inspire other artists who may be struggling with their identity and self-acceptance to stay motivated and declare their own identity worthy and special.
Visit Puapuaga at HiSAM now until December 4, 250 S. Hotel St., open Monday to Saturday, 10 a.m. to 4 p.m., closed November 6 and November 25 to 28, free admission, hisam.hawaii.gov, @hawaiistateartmuseum, @artbysaumolia
---
THEisa Shiroma is a correspondent for HiSAM and is an artist and art educator. Lisa is the former owner of the HiSAM Museum Gallery Shop, which she ran with her partners Aly Ishikuni-Sasaki and Travis Sasaki of Mori by Art + Flea from 2017 to June 2020.