Day trips: the amazing Shepparton art museum
---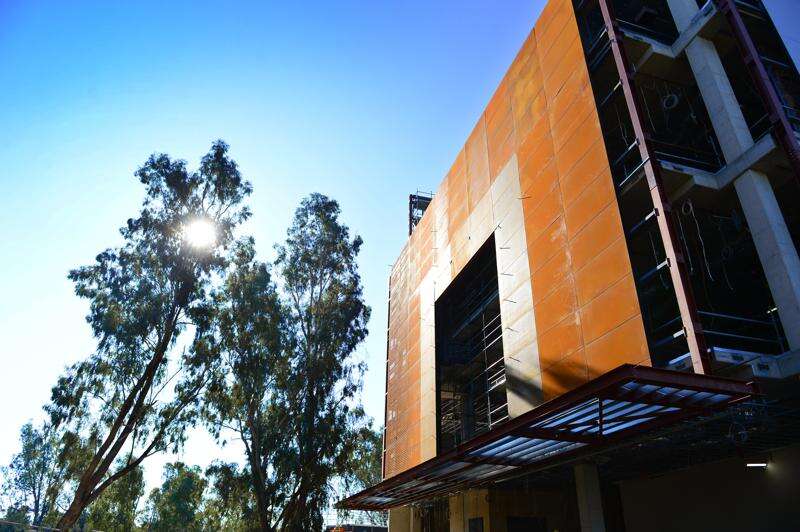 [ad_1]
The Shepparton Art Museum (SAM) had a multicultural virtual opening in November.
Community members of all ages, dressed in national costumes, sang a happy song to welcome visitors.
SAM occupies four of five levels of an imposing new building designed by internationally renowned architects Denton Corker Marshall.
A car full of us drove to SAM recently and were delighted with everything we saw.
The big cube of charcoal has come to life. It sits perfectly on its mound of green grass next to Lake Victoria Park, which has been carefully landscaped to complement, without conflicting, the building.
There are three entrances on the ground floor. One via the Visitors Center, another via Kaiela Art Gallery and Studio, and the main entrance on Wyndham St.
The Maison des Rebuts sculpture by artist Tony Albert can be found on the forecourt adjacent to the museum's main entrance. Cards stacked in shades of black and white represent a metaphor that makes them the perfect choice for their location.
A few steps from the lakeside, you will access the terrace of the SAM Café on the first floor.
We entered through the Visitors Center where we were warmly greeted.
This is not a jumble of brochures, but it has everything we asked for, including directions to the Australian Botanic Gardens, built on the former Kialla peak site, and the Vehicle Evolution Museum (MOVE) newly renovated at Emerald Bank, Kialla.
Shepparton's iconic cow sculptures look right at home. Look for the four brochures "Suggestions for visits in the Greater Shepparton" and the small hiking guide, they are excellent.
From the moment we stepped into the SAM foyer and chose to climb the grand wide steps to the first level, we were blown away by the art capturing nature inside with views from the large bays windows that highlight the landscape outside.
In the large atrium facing Wyndham St, there is a colorful and intricate mobile. It appears to be made of plexiglass and brightens up the entire area. It's modern, fun and beautiful, just like the Ian Wong exhibit Daily Australian design collection which is classified by color.
As we entered the Flow exposure at level 1, you had to pay attention to the school of swimming rays. A group of stingrays is a "fever" and they swim in "schools".
There are works by over 60 First Nations artists, including some recently acquired from the Carrillo and Ziyin Gantner Collection.
The 123 paintings of Central Australian landscapes from the Hermannsburg School are displayed en masse on one wall.
They are categorized by geographic region and include nine by Albert Namatjira family members.
We loved the ceramic work Under the landfill garden by Glenn Barkley. This is the first time it has been on display and is made up of 2,000 unnumbered pieces that a SAM staff member took two weeks to assemble.
When it is reassembled in another gallery, it will look different. The specifications of the artist are only that all the pieces correspond to a certain diameter.
Next to it is a children's board with what to look for and consider about the job. These can be found throughout the gallery.
At level 2, we loved the variety of works by artist Yorta Yorta Lin Onus. He represented his people and his country around Shepparton.
There are two large paintings around which I would order a house; they are fabulous. If you have time, watch the video about her life and influences. I recommand it.
Don't miss Amtita Hepi's dance installation video in the children's gallery. It depicts the art of movement, human and otherwise. It's fun and smart.
Time has passed; we were ready for a late lunch and still hadn't seen everything. I didn't even mention the wonderful jars.
Every volunteer and worker was enthusiastic about their SAM. We will be doing another day trip very soon.
– Suzie Pearce
[ad_2]