Five questions for the new curator of the Syracuse University Art Museum
---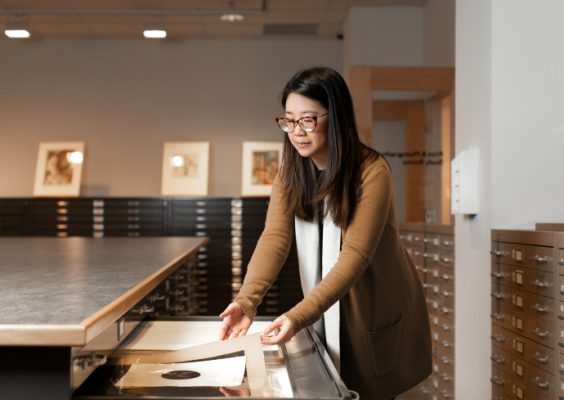 Arts & Culture
Melissa Yuen has been appointed curator of the Syracuse University Museum of Art on December 1, 2021. She joined Syracuse from the Sheldon Museum of Art at the University of Nebraska-Lincoln and was previously a lecturer at the Cantor Arts Center at Stanford University.
SU News spoke with her to learn more about her role and her vision for future exhibits at the Syracuse University Museum of Art.
01

What does a curator do anyway?

I think my work as a curator has two main components. With its roots in the Latin word curare, or care, a curator's main job is to care for a collection. For me, that specifically means caring for the Syracuse University Museum of Art collection by researching and learning as much as possible about each of the 45,000 works of art we hold.

Another part of collection care is thinking about how to expand our collections in ways that reflect the diversity of today's art world and the wide range of issues that artists face in their work.

The second part of my role is to organize exhibitions to share our collection with our community. I see this part of my work as a form of visual storytelling, and find it infinitely intellectually challenging (and even fun!) to figure out how to bring different works together around a theme or issue and encourage the campus community to get involved. .

02

Is the role of the curator different in a university art museum than in a private non-profit museum?

Yes! The primary audience for a university art museum is the students, faculty, and staff of the university. As we seek to engage with the civic community of Syracuse and the greater Central New York area, we are always considering how we can engage the campus community during their time here at SU through our collections and the exhibitions we have on view. In doing so, we work to position the museum as a place of research, where all have the opportunity to use our collections, whether displayed in the galleries or in our cellars, to consider different questions through the visual medium of art. .

03

What attracted you to the role in Syracuse?

It was primarily the museum's focus on diversity, equity, and inclusion through its exhibitions and recent acquisitions, as well as its emphasis on connecting with the Syracuse curriculum and creating a place that can bring students together. I have seen firsthand how such experiences can transform a student's time in college.

My involvement with my university's art museum as an undergraduate literally changed my life – I started college with the intention of becoming a pharmacist, but after completing a series of art history who gathered at the art museum and used its collection, I am now working as a curator in an art museum!

I also appreciate the opportunity to work alongside the talented museum staff and experience the collection – we have so many works that it has been fun to discover what we have in our collections and reflect on the different ways to share what we have with the vibrant campus community. Finally, I'm really excited to develop collaborations with students and faculty so that we can invite different perspectives into our collection and exhibitions.

04

Are there opportunities for students to do research or projects with the museum?

Absoutely! We have 45,000 objects in our collection and we are always striving to learn more about each of the works that are close to our hearts. We welcome students who wish to conduct primary research – with art objects and archival documents – to help us not only learn more about the objects, but also to help us think about how we can present these works to our public. What stories can we tell? And just as important, what stories are not being represented and how can we fix it?

05

As a society, we face many difficult issues. Why is art important? How can art inform our reflection on current issues?

I think art has this wonderful ability to inspire conversations that can bring together different points of view. We live in such a visual world – images greet us at every turn – that I believe everyone can react to what we see: how does a painting make you feel? What does this work of art remind you of? Is there a detail that particularly attracts you?

These questions and answers are important because we can use them to first build trust and community within a group, which is an important foundation to have before delving into the difficult issues that many artists have engaged in. . In other words, art can provide many different entry points to begin to understand and discuss these difficult issues.

06

What do you think are the strengths of the Syracuse University Museum of Art collection?

The museum has a rich collection that is world-class and covers 5,500 years of history. Many of our murals and sculptures can be seen on campus, including Ben Shahn's "Passion of Sacco and Vanzetti" mural on the east wall of HBC, Malvina Hoffman's "Elemental Man" in the courtyard of Falk College and Sol LeWitt's "Six Curved Walls" concrete. " on the grassy hill outside Crouse College. Within the museum of the Shaffer Art Building and through the collecting efforts of previous directors and curators, we have great depth in prints, especially those made in the United States during the 19th and 20th centuries Among the artists whose entire print output is represented in our holdings are Karl Schrag, Richard Florsheim and Seong Moy.

We also hold works by important American and European artists, such as Anna Hyatt Huntington, Reginald Marsh, Martin Wong, William-Adolphe Bougeareau and Hyacinthe Rigaud. One such highlight in our collection of paintings is Yasuo Kuniyoshi's 'Forbidden Fruit', which features a young boy looking over the edge of a table at a tower of watermelon slices stacked precariously on them. on top of each other with a table leg placed mysteriously next to it. The eerie colors used by the Japanese-born painter also add to the strangeness of the work, as shades of lavender, yellow and pink denote the room's walls and floors. In addition to this painting, we are also fortunate to have two preparatory drawings by the artist in our collection, so that taken together, these three works can give us a better understanding of Kuniyoshi's creative process.

A personal favorite is "Untitled" by Helen Frankenthaler. It's a horizontal painting that features varying shades of greens and peaches, with a wonderfully tactile section of white in the center. I was so surprised when I first saw the painting in person because Frankenthaler included shimmer pigments in his painting so parts of the surface shimmer in the light!