Gaetano Pesce's creative freedom extends to today's art museum
---
In today's episode of Shuangjing Delights, I bring you the latest exhibition from the Today Art Museum, which opened just over a week ago. "Gaetano Pesce: Nobody's Perfect" brings to Beijing the fascinating and multifaceted work of an Italian designer and architect whose work sheds the conventions of contemporary design to take an unbridled look at humanity.
The exhibition will be open until June 30 but with no reservations required, there's no better time than the present. Grab a partner to save money on your tickets and flock to Today Art Museum.
You may not have the vocabulary to define them, but we all have these vague but rigid design conventions in mind. Cool, elegant, pristine. Well, Gaetano Pesce (La Spezia, Italy, 1939) built his career on rejecting those conventions. He was a pioneer from his youth, when he wrote a manifesto defending the right to inconsistency in art, the need for change and freedom and constant innovation.
Rightly hailed by journalist Matthew Schneier as the "Pope of Gloop", Pesce said the perceived liquidity of our time informs both our contemporary values ​​and his favorite materials, equally contemporary to him: foam, resin, fabric and polyurethane. Unmoved by his criticisms, he has amassed an extensive portfolio of public and private projects around the world where his whimsical aesthetic is matched by undeniable insight.
The exhibition at the Today Art Museum is structured into nine sections in total on the second and third floors – a preface room, the Pratt chair and the Up chair, a video room, Design with Aura, Gaetano Pesce's Studio, Architecture with No Boundaries, a public education area and a reading room.
The kaleidoscope of details emerging from this universe of color and creativity will only be revealed to your eyes during a second or even a third look at each piece. Hidden faces, revealed dimensions, layers of meaning… Pesce openly invites you to interpret its creative language.
First on the tour was the Up chair series, "one of the most famous chairs of the 20th century" and a reflection on women and their lack of freedom that has not been entirely free of controversy. Its commercial version is now made of polyurethane foam and stretch fabric, for the sake of storage and transport. Also in this section you can admire three resin seats from the Pratt Chair series.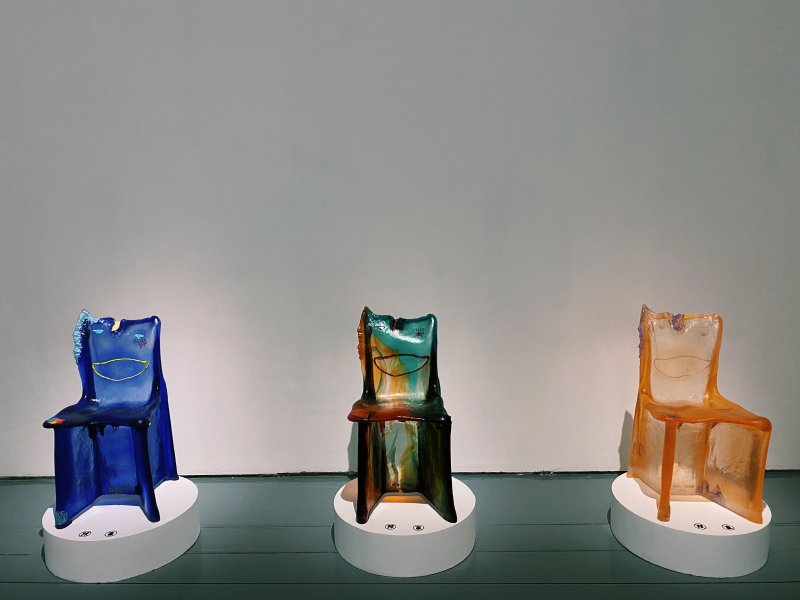 Are you already warming up to the chairs? The fun has just begun. Head to the video room to get to know Signore Pesce, then dive into the next section, Design with Aura. To me, it was nothing less than a treasure room.
"Tavolo Puzzle" (2021) honors its creator's last name and was produced exclusively for this exhibition, but there's so much more! "Portraitratti Chair" (2021) is Pesce's colossal and colorful reflection on a softer, more human version of globalization. Works such as "Il Burattino" (2019) and "I Grandi Curiosi" (2019) criticize the manipulation of unrealistic values ​​and call for curiosity.
To get your fill of four-legged design, be sure to check out the 'Crosby Child Chair', the 'Jeanne Chair' and, of course, the 'Nobody's Perfect Chair' series (2002-2019), dealing with the design concept de Pesce of "diversity and non-repetition". I could talk all day about other pieces like the mesmerizing "Portrait Lamp #1" (1989-2016) or the gripping humanity of the "Palladio Cabinet" (2017)… but it's time to move on.
After briefly exploring the Gaetano Pesce studio and before relaxing in the reading room, the final noteworthy section is Architecture Without Borders. A big highlight here is the photograph of the "Organic Building" (1989-1993) in Osaka, Japan, the world's first vertical garden.
Although Sailor Moon's vibes from Pesce's "Sketch for Rebuilding WTC" didn't quite resonate with me, once again I felt compelled by her thought process as I learned of her "Sketch for Church of Solitude".
Here I am now satisfied with an exhibition that has provided me with visual delights and food for thought. You can't ask for much more from a visit to the museum.
"Gaetano Pesce: Nobody's Perfect" is co-curated with the Gaetano Pesce Studio and Design Society, has the support of the Italian Embassy, ​​and will be on display until June 30. Opening hours are 10 a.m. to 6 p.m., Tuesday to Thursday and Sunday (ticket office closes at 5 p.m.), and 10 a.m. to 9 p.m., Friday and Saturday (ticket office closes at 8 p.m.). Tickets cost 128 RMB for a single pass, 238 RMB for a double pass, and a reduced price of 78 RMB for students, people with disabilities and pensioners.
Today Museum of Art 今日美术馆
Pingod Space, 32 Baiziwan Lu, Chaoyang District
朝阳区百子湾路32号
READ: This 'Alice in Wonderland' exhibit takes visitors down the rabbit hole
Images: Ana Padilla Fornieles