New Ulrich Museum exhibits deal with agriculture and climate change – the Sunflower
---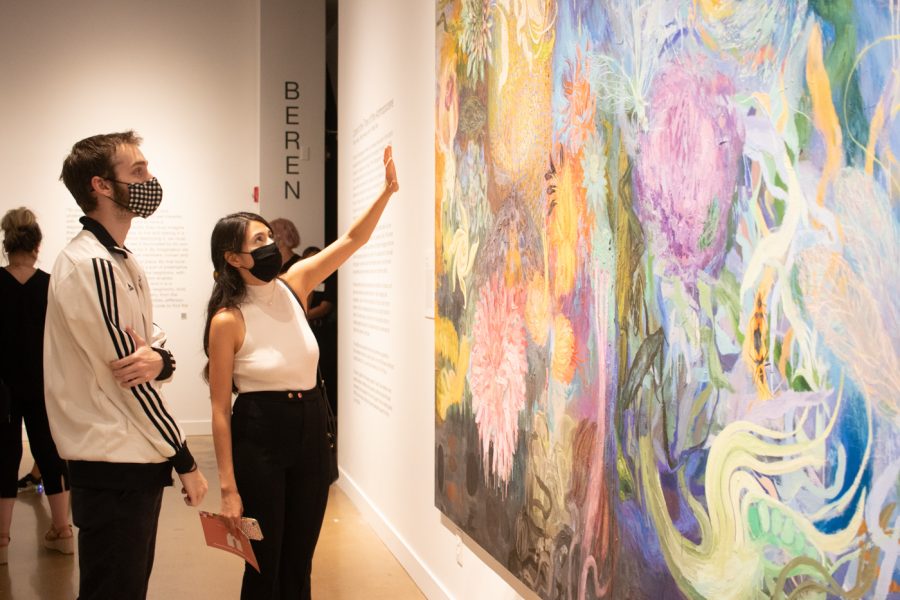 The Ulrich Museum inaugurated two new exhibitions on Thursday.
The exhibits – "Love in the Days of the Anthropocene" and "Look, it's dawn, my dear, it's time to sing" – were a vivid display of paintings and photographs of the Kansas prairie. The central theme describes how humans have become the most powerful force and how a symbiotic relationship with nature should be our guide.
Climate change, greenhouse gases, rising sea levels, habitat loss and species extinction are the concerns of today's world.
Mary Kay, painter of "Love in the Anthropocene" described how painting gave her the ability to express what she cannot say in words. She said that we have lost touch with the natural world, by overdoing it, which disconnects us from wildlife and nature.
She described her painting as having "the fullness of the day", a "natural orgasmic scene, which indicates the vitality of life". That ultimately when we die our lives will be swallowed up by eternity, so it is important to forge symbiotic relationships with the natural world.
The students seemed in awe of everything that was portrayed. A connection between the natural world, drawing a larger picture of human life and its impact on the environment.
Although some students were to come for the lessons, they described it as "an interesting illustration of agriculture".
In "Look, it's dawn my dear, it's time to sing", there were videos of the environment and how it is changing quickly. Show how animals and humans interact and are very similar. Students described the posted videos as "calming and reassuring."
The new exhibits will be on display until December 4, with the museum open 11 a.m. to 5 p.m. Monday through Saturday.
EDITOR'S NOTE: A previous version of this story falsely stated that the exhibits were open until this month, the correct date is until December 4th. This version has also been modified to correct spelling errors.