The Zimmerli Art Museum presents Walls/Gates/Bridges: An Anti-Carceral Gathering
---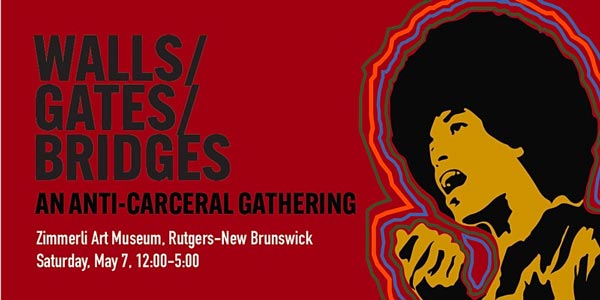 NEWS | FEATURES | PREVIEWS | EVENTS
originally published: 04/15/2022
(NEW BRUNSWICK, NJ) — The Zimmerli Art Museum presents Walls/Doors/Bridges: an anti-prison rally Saturday, May 7 from noon to 5 p.m. This event includes contributions from incarceration survivors, anti-prison activists, and scholars on Angela Davis' continued fight for justice and freedom in New Jersey.
Speakers include Nafeesah Goldsmith of Oversight of prison justiceReverend Charles Boyer and Reverend Amos Caley of salvation and social justice, Dr. Keeanga-Yamahtta Taylor from Princeton University, Ronald Pierce, New Jersey Institute for Social JusticeAntonne Henshaw and Russ Owen, of the Transformative Justice Initiative, and Boris Franklin, new jersey together.
The program also includes lectures and gallery discussions by artist and activist Maureen Kelleher of the Social Justice Collaboration Quilts Project and the curators of Angela Davis – Seize the Time. Register for the event here.
This event is part of Angela Davis – Seize the Time, a groundbreaking exhibit documenting Davis' arrest, imprisonment, trial, and international campaigns to free Davis and all political prisoners. The exhibit includes over 250 rare posters, magazines, photographs, courtroom sketches, videos, music, writings and works by contemporary artists. Co-sponsored by NJ-STAGE, the New Jersey Scholarship and Transformative Education in Prisons Consortium at Rutgers. This project is supported in part by the National Endowment for the Arts.
The Zimmerli Art Museum at Rutgers University is located at 71 Hamilton Street in New Brunswick, New Jersey. It is one of the largest and most distinguished university museums in the country. It collects, preserves, researches and exhibits world-class works of art to provide the academic community and various regional, national and international audiences with first-hand experience of the visual arts. Scholarly activities make art accessible through exhibitions, publications and educational programs
Advertise with New Jersey Stage for $50-$100 per month, click here for more info
---
Advertise with New Jersey Stage for $50-$100 per month, click here for more info
---