UK Art Museum Exhibits Works By Famous Kentucky Impressionist
---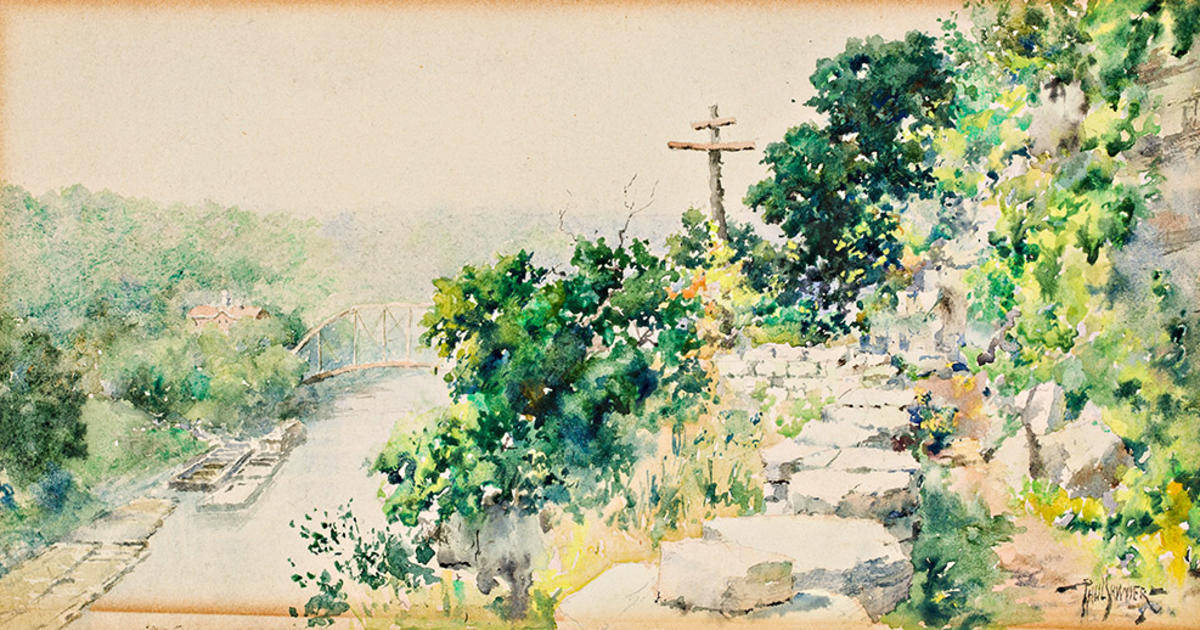 LEXINGTON, Ky. (January 12, 2021) — Although he was born across the Ohio River, it was the beautiful landscape of the Commonwealth that became the focus of Impressionist Paul Sawyier's career. A free public exhibition of Sawyier's watercolors from the museum collection of the University of Kentucky Museum of Art is now on view.
"Paul Sawyier is still one of Kentucky's favorite artists, but amid dark winter days it's even more rewarding to come and see his scenes of lazy summer afternoons along Elkhorn Creek or the Kentucky River. It gives us all something to look forward to," said UK Art Museum curator Janie Welker.
Deep roots in Kentucky have made Sawyier one of the state's favorite entertainers. This exhibition features the atmospheric watercolors he made in and around his home in Frankfurt, as well as other well-known locations in the region. Many will be familiar to today's viewers.
Sawyier often revisited his favorite Frankfurt subjects: the dappled shade of Louisville Hill in summer; the "Singing Bridge", spiers of the county and federal courthouses, and Good Shepherd Church, as seen from the vantage point of the City of Frankfort Cemetery; and the graceful architecture of the old Capitol building.
Sawyier grew up in the state capital from the age of 5 and began his career as an artist in his beloved hometown. He often lived and worked on a barge on the Kentucky River between 1908 and 1913, frequently docking at Shakertown or Camp Nelson, although he navigated the river to many sites. Sawyier and his beloved, Mayme Bull, often canoed the Elkhorn River or Creek east of Frankfort.
Even after Sawyier moved to Brooklyn in 1913 to try to sell more work, he painted beloved Kentucky scenes based on sketches he brought with him.
This exhibition will be visible until March 20, 2021.
COVID-19 PROTOCOLS
To ensure the safety and health of patrons and staff during the COVID-19 pandemic, the UK Art Museum has several protocols in place. All visitors must pre-register for a timed appointment to view the exhibits. Reservations can be made here.
In addition, all visitors must adhere to the following guidelines when visiting exhibitions or activities at the UK Art Museum:
Face masks must be worn by all visitors over 2 years old.
Capacity will be reduced and controlled to 20 visitors at all times.
Temperature checks will be required for visitors and staff prior to entry.
Visitors showing signs of illness at any time will be asked to return when well.
Visitors must use the hand sanitizer provided at the entrance.
Social distancing is required and will be enforced.
Follow the signs indicating the direction of traffic in the galleries.
Credit or debit cards only; no cash allowed for purchases.
UK Art Museum staff will also wear masks, undergo temperature checks before entry, use hand sanitiser and practice social distancing. Please check the UK Art Museum website before your visit for the most up-to-date information.
The UK Art Museum's current opening hours are 10 a.m. to 5 p.m. Tuesday to Friday and 12 p.m. to 5 p.m. Saturday. The museum will be closed on Sundays and Mondays.
The mission of the UK Art Museum, part of the UK College of Fine Arts, is to promote the understanding and appreciation of art in order to enhance the quality of life for the people of Kentucky by collecting, exhibiting, preserving and interpreting outstanding works of visual art from all cultures. Home to a collection of more than 4,800 objects including American and European paintings, drawings, photographs, prints, and sculptures, the art museum features both special exhibits and exhibitions of works from its permanent collection. .
The UK Art Museum is located in the Singletary Center for the Arts at Rose Street and Euclid Avenue. Admission is free, but donations are encouraged.