University art museum opens juried student exhibition
---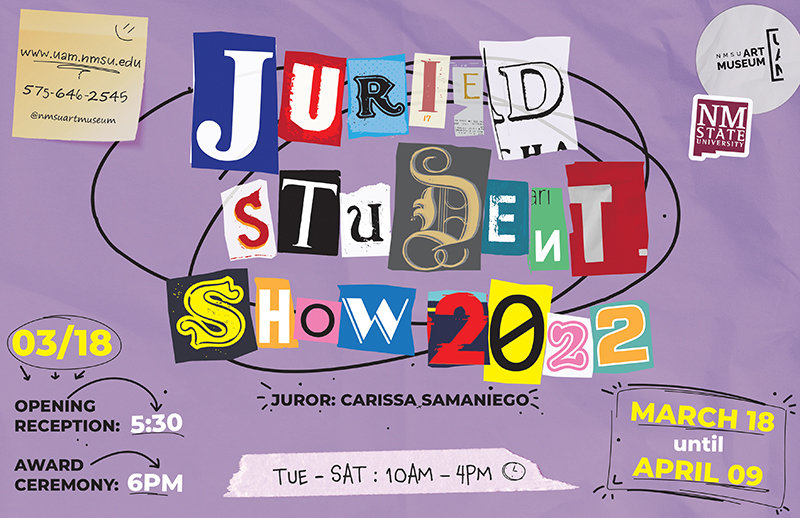 report card
The NMSU University Museum of Art (UAM) has opened the 2022 Juried Student Show (JSS) Mach 18 at Devasthali Hall, 1308 E. University Avenue, at the intersection of University and Solano Drive.
"Each year, UAM receives an impressive variety of submissions from undergraduate and graduate students, showcasing a wide range of materials, methods, and ideas," the museum said in a press release. . "JSS is an opportunity to recognize the hard-working students of NMSU by acknowledging their exceptional creativity. This exhibition always attracts a large audience and encourages broad community support.
2022 JSS, judged by Carissa Samaniego, features 50 works of art in a wide range of mediums created by undergraduate and graduate students from various disciplines and majors on NMSU's main campus, according to the press release.
"One of the most exciting things about JSS is that students are eligible to receive monetary awards," the museum said. "These awards benefit students by honoring and encouraging them during a crucial time of growth, development and training. As usual, the JSS received great community support, and UAM is honored to be able to award over $4,500 in rewards this year.
The exhibition opening reception will be held from 5:30 to 7 p.m. on Friday, March 18 at UAM. The awards ceremony will begin at 6 p.m. JSS will be visible in the UAM Contemporary Gallery until Saturday, April 9.
The UAM is open from 10 a.m. to 4 p.m. from Tuesday to Saturday. Designated museum parking is available and general parking on the NMSU campus is free on weekends and after 4:30 p.m. on weekdays.
Contact UAM Coordinator Jasmine Herrera directly at 575-646-2545 and [email protected]
To visit uam.nmsu.edu.